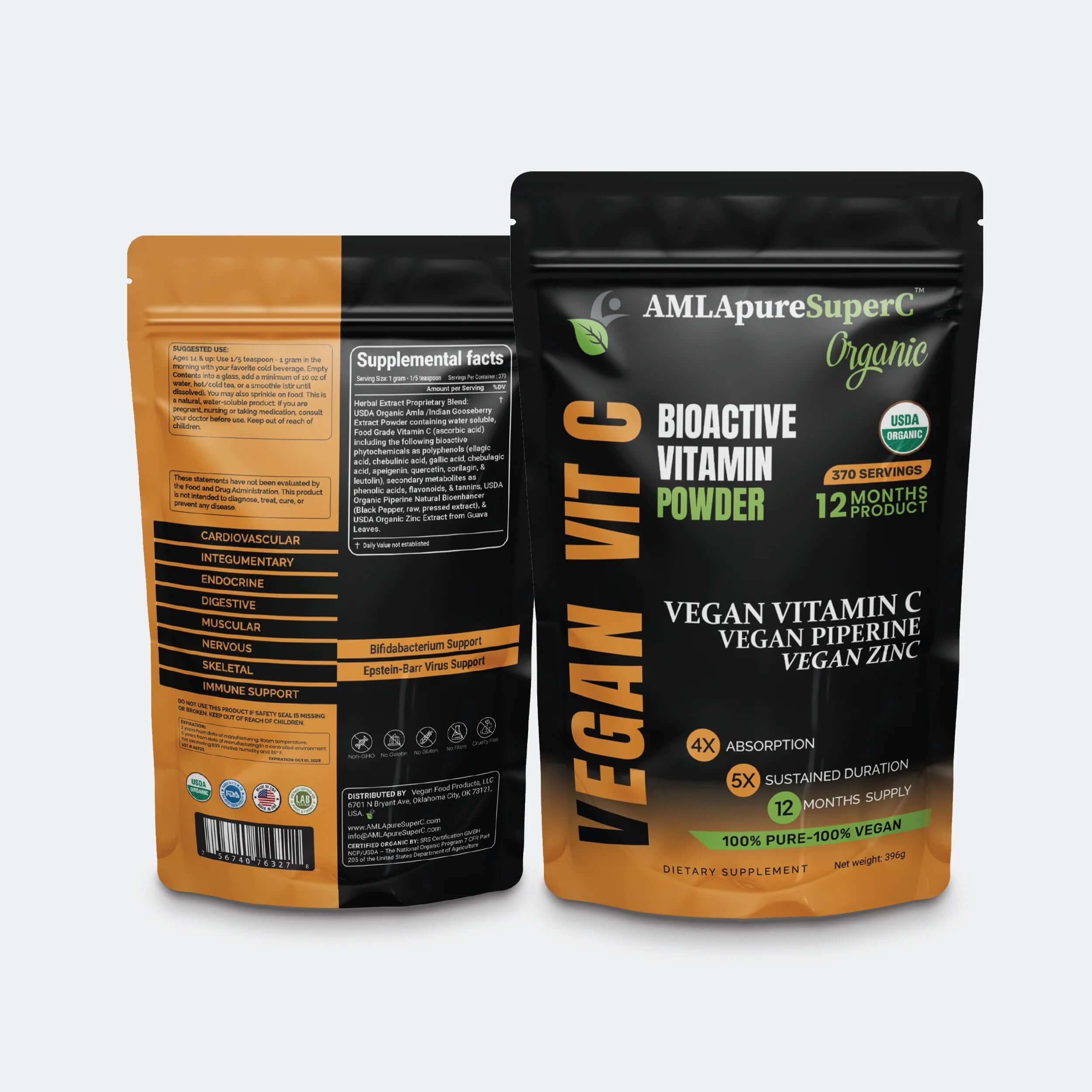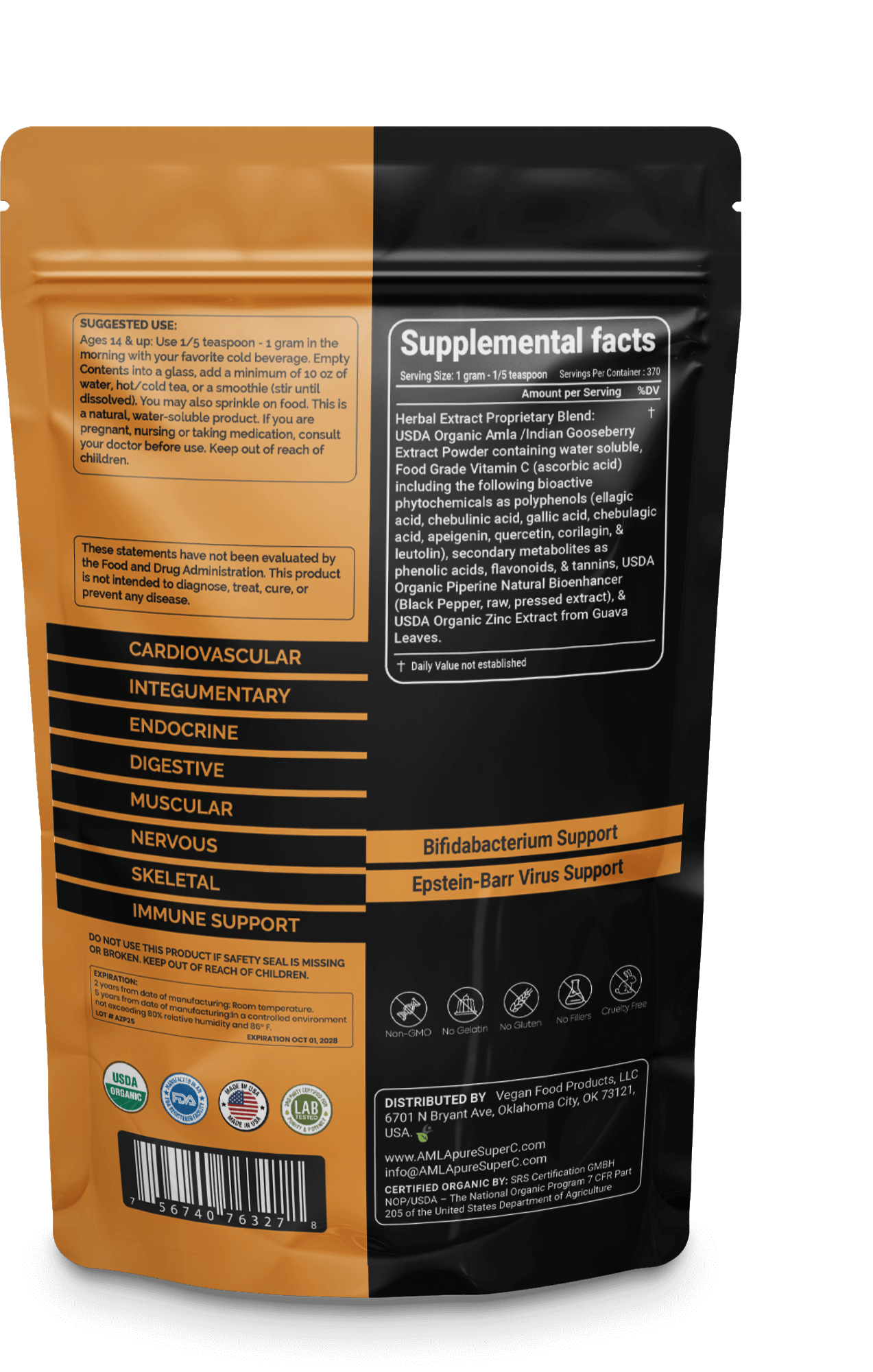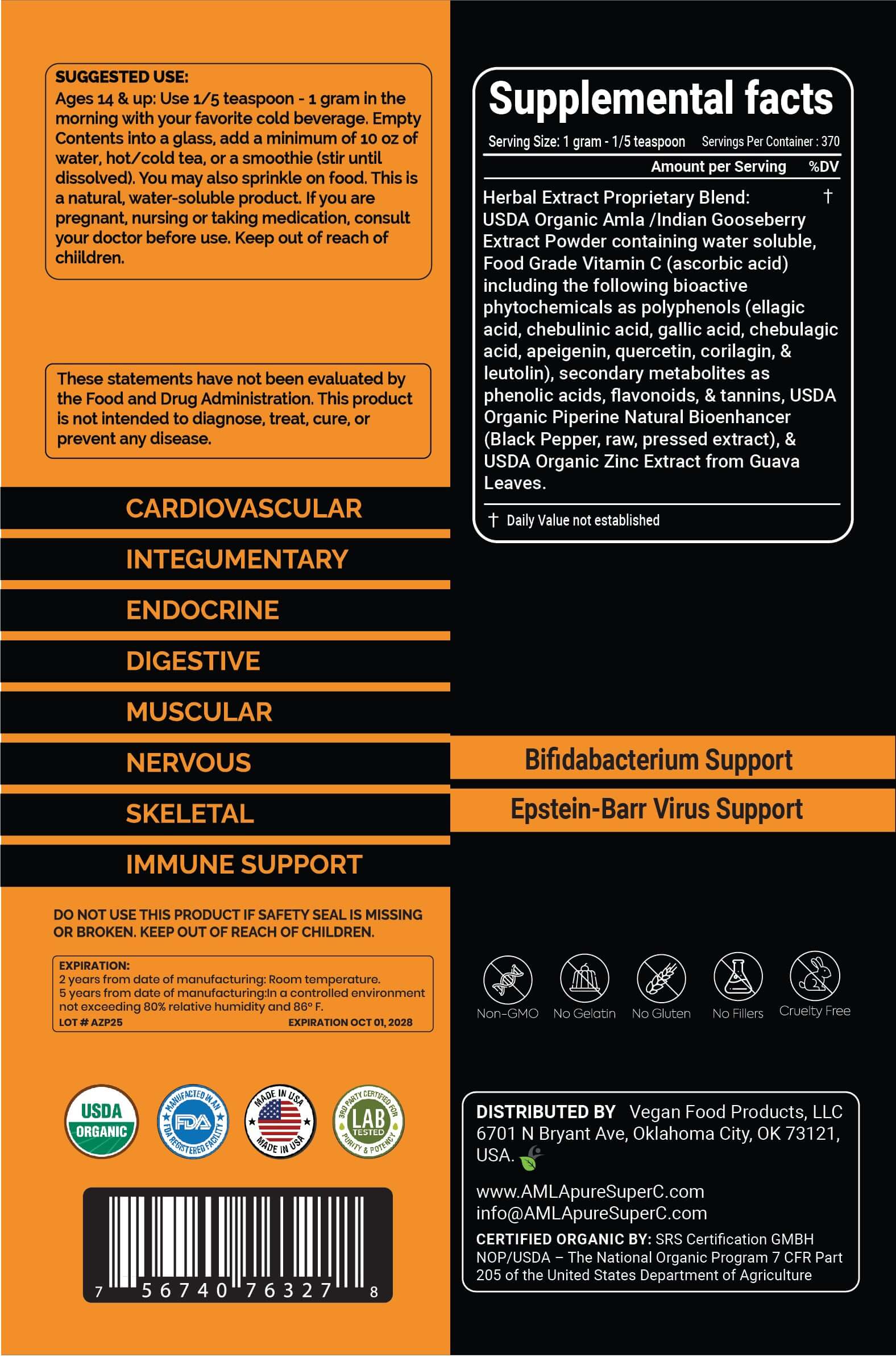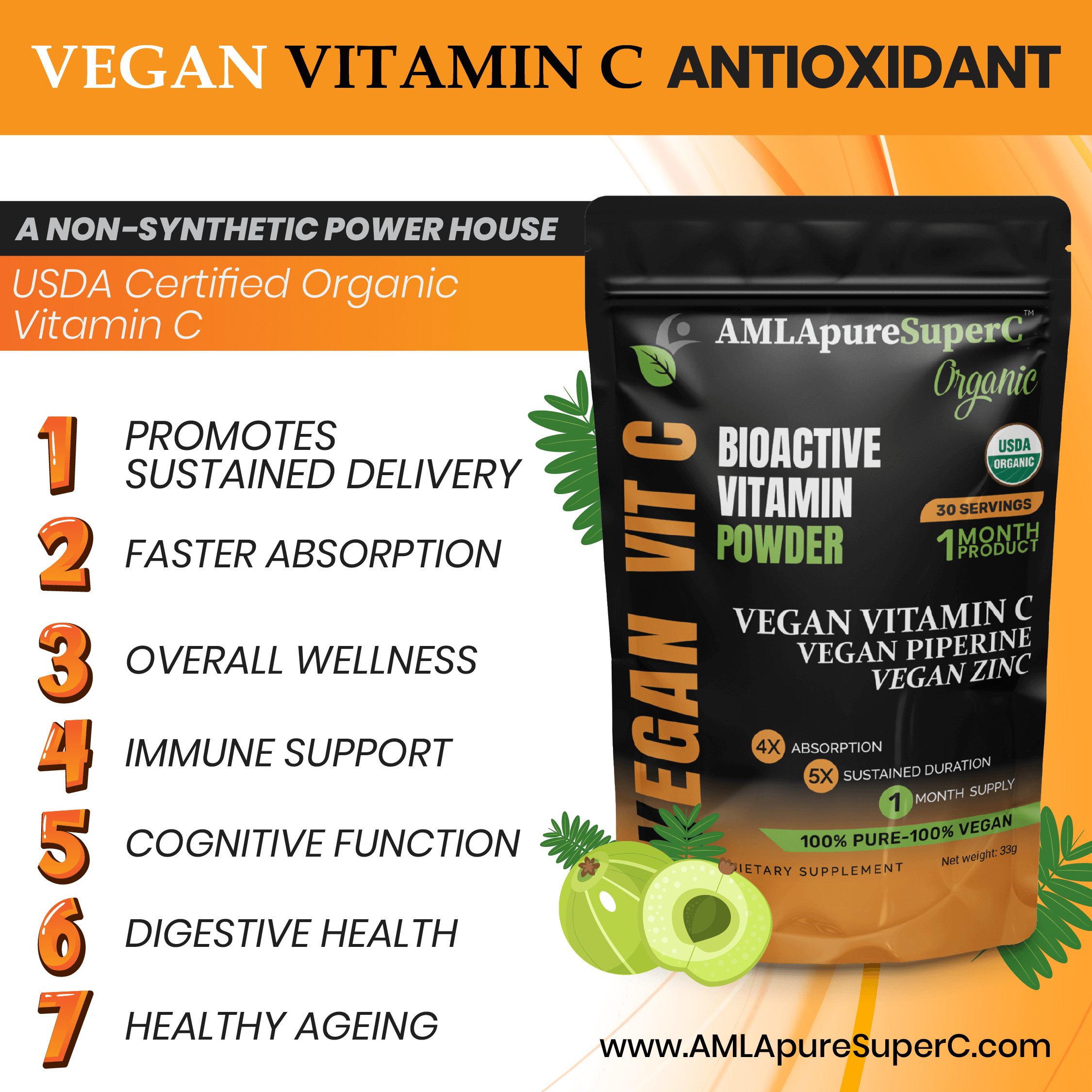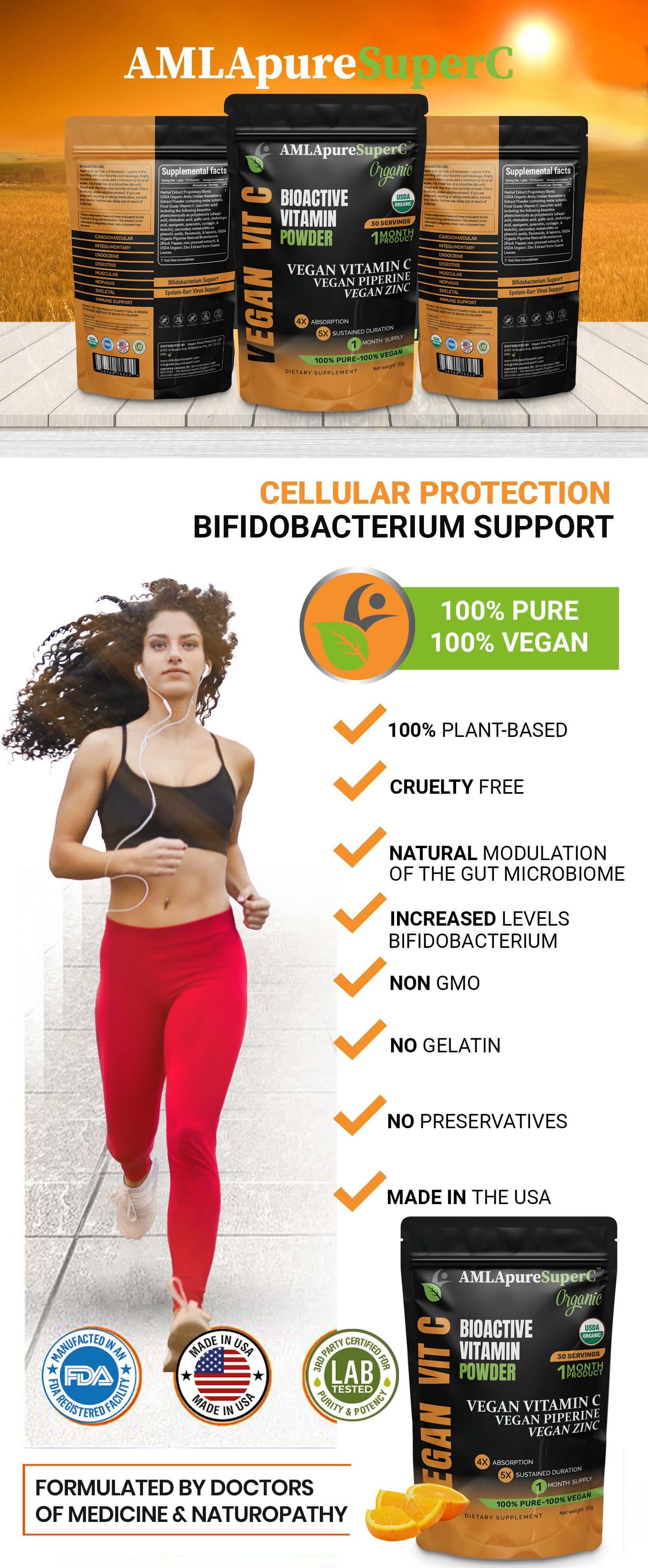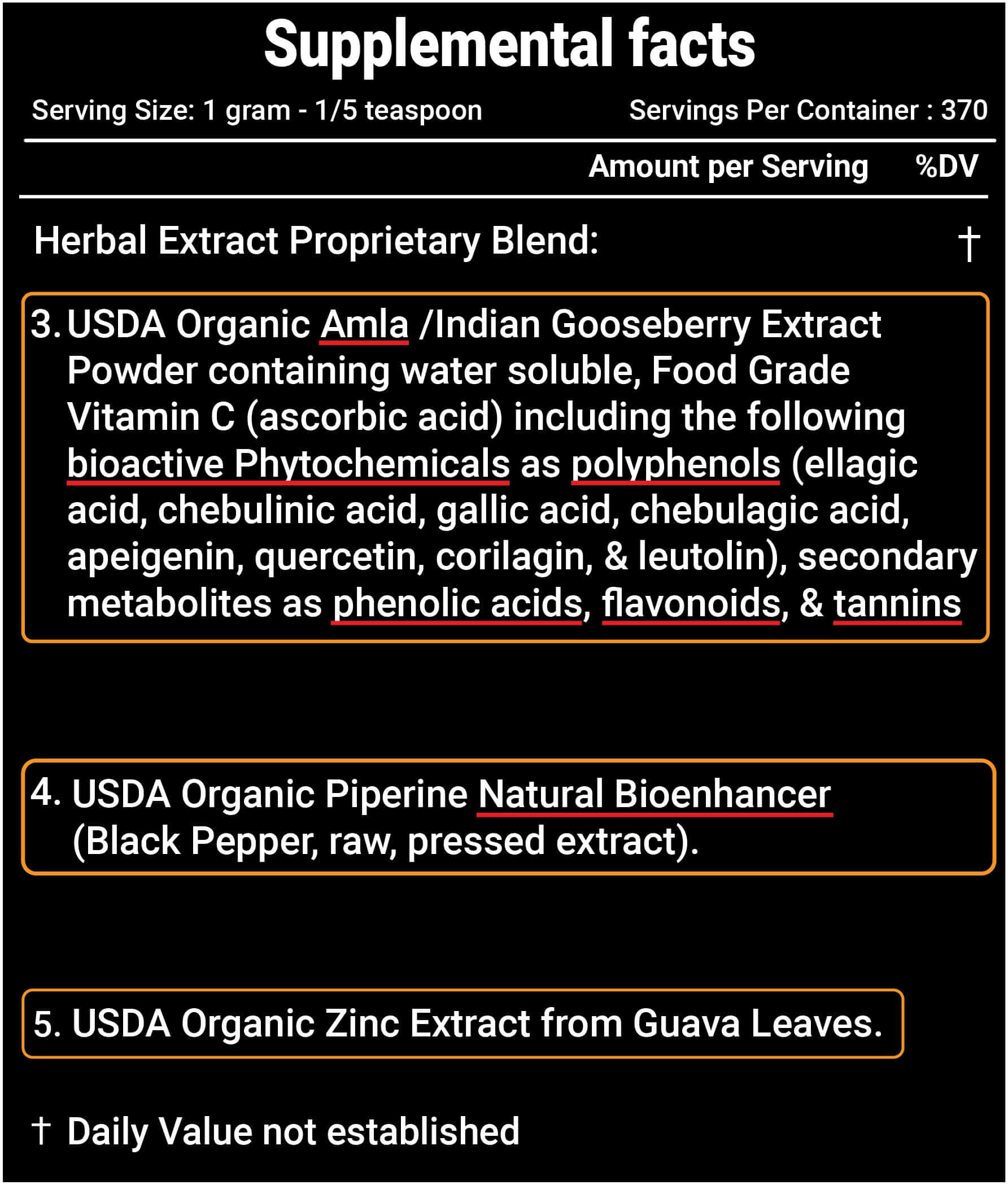 Plant Based Vegan Vitamin C - Antioxidant - 12 Month Supply
---
AMLApureSuperC™
Whole Plant AMLA pure Super C™ is a Vegan Vitamin C, Antioxidant Complex and the finest vegan, non-synthetic forms of vitamin C, that is 100% plant based, natural, cruelty-free, void of fillers and a potent, maximum absorption delivery of essential nutrients. AMLA super C also possesses rich and diverse bioactive elements and phytochemicals. Backed by science and research, it provides "systemic, whole body" support with the Integumentary, Skeletal, Nervous, Muscular, Endocrine, Digestive, & Circulatory /Cardiovascular systems 
---
---
Product Information
Each 12 month supply of AMLA pure Super C contains 730 servings of formulated extract, lasting anywhere from 12 to 24 months. Alternatively, a family can share a pouch. Do not administer to children under 14 years of age.
12 months supply (1 pouch) - 730 servings
AMLApureSuperC is the next generation of new supplements which contain all of the Plant's Bioactive Compounds & Phytochemicals which other forms of supplements lack. These compounds are The Key is not only possessing high levels of free radical scavenging BUT also combining this attribute with a sustained absorption profile. 
4x the absorption of regular Vit C alone. Same as Liposomal, but without the price tag PLUS it has the independent lab validations.
Supplement Facts
Possess both a significant & sustained, absorption profile combined with a verifiably, significant, antioxidant capacity.

 

High-performance liquid chromatography, HPLC.
Conveniently powder format for use with water, smoothies, hot / cold products or even sprinkling on your favorite foods.
We avoid the use of microcrystalline cellulose, also known as, MCC,

 

Maltodextrin, magnesium stearate or stearic acid.
Experience the benefits of pure and potent vitamin C with our Plant Based Vegan Vitamin C Powder. Each servings utilizing Natural Bioenhancers delivers the whole herb to your body, ensuring that you receive the full benefits of this powerful super fruit. It provides "systemic, whole body" support with the integumentary, skeletal, nervous, muscular, endocrine, digestive, & circulatory/ cardiovascular systems. 

Maximum & Sustained Absorption
AMLApureSuperC™ Non-Synthetic, Full Spectrum, Multi-faceted, Super C Vitamin activates the endogenous antioxidant system, which through critical pathways, facilitates scientifically implicated responses to a myriad of diseases, such as cancer, hyperlipidemia, diabetes, chronic inflammation, digestive tract disorders, and premature aging.
We take great pride in the quality of our supplements with third party laboratory validation of potency and the verification that there are no heavy metals or toxic substances in the raw materials. Our product is both formulated here in the USA and is also manufactured here in Oklahoma, USA. All products are also barcoded so we can trace and track authenticity

We are committed to providing you with the best quality supplements.

 Important: Please note that these statements have not been evaluated by the Food and Drug Administration. Our supplements are not intended to diagnose, treat, cure, or prevent any diseases.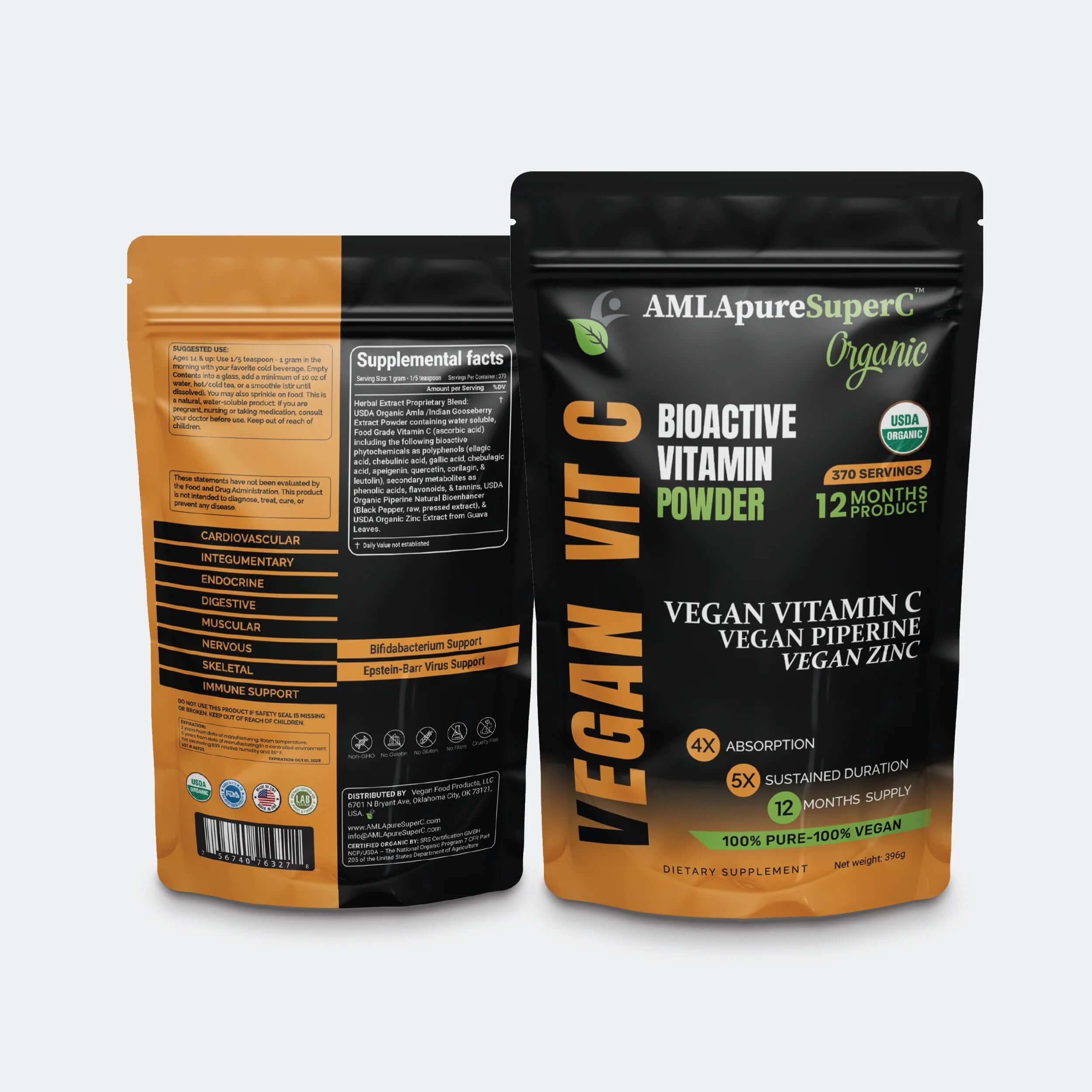 This product is rated 5.0 of 5.0 stars.
It has received 1 review.